FAQs
---
Where can I install the extension?
Get WeBooster for Youtube in your browser.
---
How to log in to the WeBooster extension?
After the extension is installed, open the extension panel and click the login button to log in. After logging in, you can open your dashboard page. Through the dashboard, you can add videos that need to be promoted.
---
How do you create a campaign?
Making a campaign is free!! You must have at least 100 credits to create a campaign.

open the campaign menu
click button to add a youtube video
click button to set campaign
run campaign after saving
Note:
You must have credit so that your campaign can run, because credit is a payment method if your video or channel gets action from other members.
---
How to get free credits?
You only need to complete the action and you will be paid using credit, for example: watching, liking and subscribing to the channel. Open the WeBooster extension panel, click the start button to get free credits.
---
After the campaign is deleted, will the remaining credits be returned?
Of course, the rest of the credits will be returned to the account.
---
Does WeBooster support other browsers?
Currently supports Microsoft Edge / Chrome / Brave.
---
How can I get credit?
You can get free credits by completing daily actions.
You can also purchase credits directly through our store.
---
Can I return the credits purchased through the store?
No, credits cannot be returned once purchased.
---
How my campaigns get prioritized?
We are a traffic-exchange platform letting people get actions from others as they help others. We encourage everyone to join our daily actions. When you run more actions for others, you will get prioritized. You can buy coins, but that ONLY let you run more campaigns at the same time. Subscribe users will also get prioritized, but all prioritized factors are add-up and not mutually exclusive.
---
How long will it take to complete the campaign?
Depending on daily user activity, it may slow on some days, but if you contribute to daily actions or become a premium user, it can be prioritized.
---
How to sign in to a new account?
1. With your current Google account, goto https://myaccount.google.com/permissions page, find the WeBooster and then 'REMOVE ACCESS'.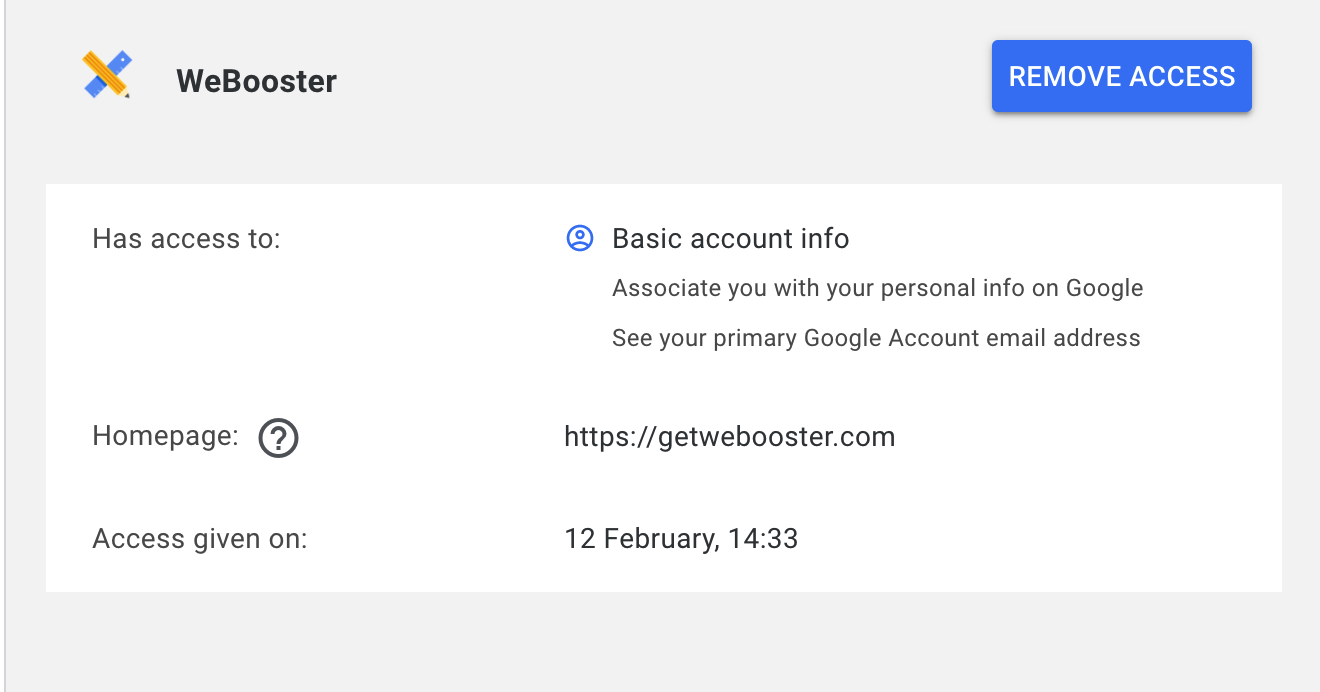 2. Go back to the exntesion popup panel, click LOGOUT to log out your current accoutn, then sign in again.
---
Any questions?
Drop us a line via getweboostergmail.com.